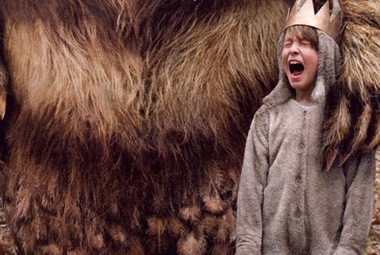 Here's this week's Tablet column — like every other human who writes about parenting, I weighed in on Where the Wild Things Are. I hope I said some things that have not been said eight gazillion times. And hey, I quoted Ursula Nordstrom. Suck on that, illiterates.
We liked it. My children were not traumatized by it. It was very, very purty. Because I am so professional and impartial like Switzerland, I do not hold the achingly cool hipsterosity of the end credits against it. ("Special thanks to friends of the Wild Things"…who happen to comprise EVERY WINCINGLY GROOVOX CELEBRITY HUMAN EVER: Miranda July, Steven Soderbergh, Brad Pitt, Mike Mills, Arcade Fire, Sean Penn, Benicio del Toro, Michelle Williams, David Fincher, David O. Russell and "Girl Skateboard Family," God, kill me.)
I wish Lisa Schwarzbaum of EW, who I almost always agree with, had gotten some deets right. It wasn't a WILDCAT COSTUME, jeez, it was a WOLF SUIT, and the line isn't "I could eat you up," it's "I'll eat you up." But I think that's an indication that people who aren't crazy-passionate about the book may be more favorably disposed toward the movie. And hey, the movie should be allowed to stand on its own. Movie = not book. My passion for the book and annoyance at hipster-boy writers and filmmakers may have clouded my judgment; I own that.
I have no clue whether Jonze and Eggers wanted to make a movie for dewy hipsters or for kids. I only know that my kids' response — the movie was fine; it wasn't scary; it was a little too long; it was not as good as Wall-E — was pretty much my elderly non-dewy non-hipster response too.