I'll be on GMA3 tomorrow to talk about Sorry, Sorry, Sorry: The Case for Good Apologies. In the pre-interview with the producer I kept asking about the CHAIR. I watch some TV talk shows and the chairs look so uncomfortable, and celebrities always perch thereon ALL FULL OF APLOMB, but whenever a normal person is on they look like they have forgotten how sitting works. If I think I sat OK, I will share the link here afterward.
On January 10 — pub date! — my co-author Susan McCarthy and I will be at the venerable Kepler's Books in the Bay Area, where we'll be interviewed by radio host extraordinaire Angie Coiro, at 7pm. More info here.
And we'll be at P&T Knitwear, a new indie bookstore on the Lower East Side, on January 13 at 7pm. More info here.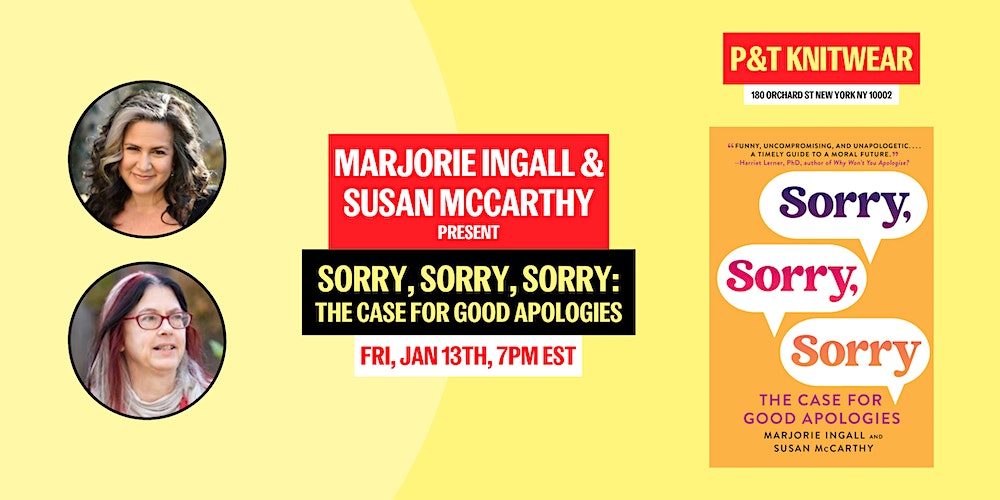 I'll tell you about future appearances as they come up, both here and on SorryWatch.com. (FYI, in addition to my personal FB and Twitter, you could follow SorryWatch on FB and Twitter? Insert standard disclaimers about how long we may or may not be on Twitter.)
Susan and I are happy to discuss: How to deliver a beautiful apology in six (and a half!) simple steps! Why corporations, celebrities, institutions, and governments seldom apologize well! How to recognize a mediocre apology and how to elicit a better one! The circumstances under which you should NOT apologize! How to teach children to apologize! How gender and race affect both apologies and forgiveness! Why good apologies are essential, powerful, and restorative! Sorry about all the exclamation points!