Not long ago, you may have heard, Sir Patrick Stewart crowned the pies at Frank Pepe's Pizzeria Napoletana in New Haven the best.
I read this and felt melancholy. My dad, the late farklempt.com, was known for his New Haven pizza obsession. Every time he and my mom drove from Rhode Island to NYC to visit Josie (the rest of us were incidental; his granddaughter was the raison de conduire), he'd insist on stopping for a pie. Every trip, his ranking of "The Best Pizza in New Haven" changed. Thankfully, his proto-blog records some of his musings for posterity. There was no blogging software back in 1997, when he started his site, having taught himself rudimentary html, but he loved to write, loved to talk about food, and loved his family. Farklempt.com let him do all those things.
In February 2002, when Josie was four months old, his fave was Pepe's — "a thin chewy crust, divine sauce, lots of olive oil, and all fresh ingredients," he wrote. "It was perhaps the best pizza we ever ate."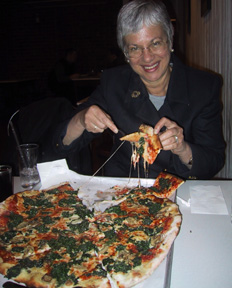 He also raved about Josie's conversational abilities, which consisted of pulling off his glasses, sticking out her tongue at him, and echoing noises back and forth. "Actually, she can speak now–she just hasn't learned words," he wrote.
In April, 2002, he slammed Tony & Lucille's (after being unable to get into Pepe's — his usual fave, rated "a Roberto Parkerelli 98"– or Sally's), calling it "disappointing" as well as overpriced. He lamented, "The crust was thin and chewy, like Pepe's, rather good, but the sauce was sour, the mushrooms were canned, and the spinach was sparse." Ya burnt, Tony & Lucille.
Farklempt and mom were back again in May. The entry coos over Josie (now seven months old), rhapsodizes about Russ & Daughters (how Dad would plotz if he knew that there's now a Russ & Daughters restaurant on Orchard and an outpost at the Jewish Museum!) and details another pizza jaunt:
Driving home, we continued our quest for the best pizza in New Haven. Modern Apizza's line was continually busy — this bodes well for future explorations — so we settled on Abate's Pizza, which is next door to Pepe's on Wooster Street. Our order was ready when we got there, and they let us eat it on their verandah, along with a bottle of old-fashioned Foxon lemon & lime soda. It was a small mushroom-spinach pizza. The mushrooms were fresh and sautéed first, the best we've had in New Haven, and the spinach was passable, even though it might have been canned. The sauce was first-rate…nay, delicious. The crust was not quite up to Pepe's, a tad thicker and not as chewy. So far, the ranking is:
Like Sir Patrick, Dad put a LOT of value on crust quality. Also on reading.
Farklempt's next pizza check-in was in September 2002. I fear I can trace his decline on the site: There's a spelling error, which was unlike him, and no pictures, an indication that he was tired. He did have the energy to change fonts to trumpet the all-important pizza rankings:
NEWS ALERT!!
ABATE'S PASSES PEPE'S TO BECOME THE NUMBER ONE PIZZA IN NEW HAVEN!!
Farklempt & family discover that they can phone ahead to abate's, who accept the order graciously, start to cook the pizza, and serve it to you with utter friendliness at a table inside. And the pizza itself (onion, mushroom, spinach, sauce, and mootz, of course, is superb, tasty, hot, with all fresh ingredients! They welcome children of all ages and a full line of beverages. Folks, if you're traveling through New Haven on 95, this is the place to stop. The New Rankings are now:
1. ABATE'S
2. PEPE'S
3. SALLY'S
4. MODERN
Few of the site's links work anymore. Modern Apizza may have ranked fourth in my dad's heart, but it was the first to have its own domain name and the only one with a still-working link, so it wins on at least one front? I am making myself sad again.
Mom and Dad were back again in October ("I think I need a 12-step program for Josie, for I have all the features of an addict," Dad wrote) and Abate's retained the top slot. "It was sizzling hot when I arrived — the usual mushrooms, spinach, and onion," he wrote. "It was the best pizza ever in New Haven."
As he got sicker, he drove less and took the train more. The New Haven entries disappeared. The Farklemptian truth about the best pizza in New Haven may now be lost to history, but I seem to recall that by the time he died, in August 2004, at age 64, he'd returned Pepe's to the top position. No insult intended to PStew, but you really can trust my dad on this subject…unlike some people who've acknowledged never even tasting pizza until 2013, when they were 72. There's only so much ground one can make up, you know?
Dad's last farklempt.com entry was a picture of my ultrasound from June 2004. He labeled it "Quasimoda." He never got to meet Quasimoda, who became known as Maxine. She was born two months after his death and named for him.
She really likes pizza.