Yesterday was the anniversary of the General Slocum disaster, the biggest loss of life in NYC until September 11. It happened on June 15, 1904. The congregation of St Mark's Evangelical Lutheran Church on East 6th Street (which was then a German immigrant neighborhood) hired a steamboat to take 1300 congregants — mostly women and children — on a day trip upriver for a picnic. This trip was an annual tradition; the church had been doing it for 17 years.
But this time the boat caught fire. And the crew had never had a fire drill. They quickly found that the firehoses had all rotted and fell apart in their hands. The lifeboats were wired into position and couldn't be untied. There weren't enough lifejackets, and those that were accessible were weighted with iron or filled with powdered cork that scattered everywhere; the lifejackets had been hanging outside for 13 years and were dissolving.
The captain compounded the disaster. Instead of stopping immediately, he kept the vessel moving (he claimed at the trial it was because he didn't want nearby buildings and oil tanks to catch fire), directly into strong headwinds, which fanned the flames. The flammable paint on the boat didn't help.
1021 members of the congregation were killed.
The web site The Gog Log has a very moving post about the disaster, with photos I hadn't seen before and heartrending anecdotes I hadn't heard before. And it occurs to me: I've written a lot about the Triangle Factory Fire, but never about The General Slocum disaster. Why not? Maybe because at least something healing came out of the Triangle Fire — workplace safety laws, strength for nascent unionizing, an awareness of workers' rights, coalition-building between poor and wealthy women. What good came from the General Slocum? Sure, there was an impetus to improve emergency equipment on ships, but that hardly seems like much. It's just sickeningly sad.
The loss of so many women and children proved the end of downtown's Little Germany. The survivors wound up moving north, to Yorktown. The abandoned church building remained empty until 1940, when it was turned into a synagogue (and remains one today, though it now has struggles of its own).
There is still a pink granite monument to the General Slocum in Tompkins Square Park — it's so weathered, the frieze is becoming hard to see.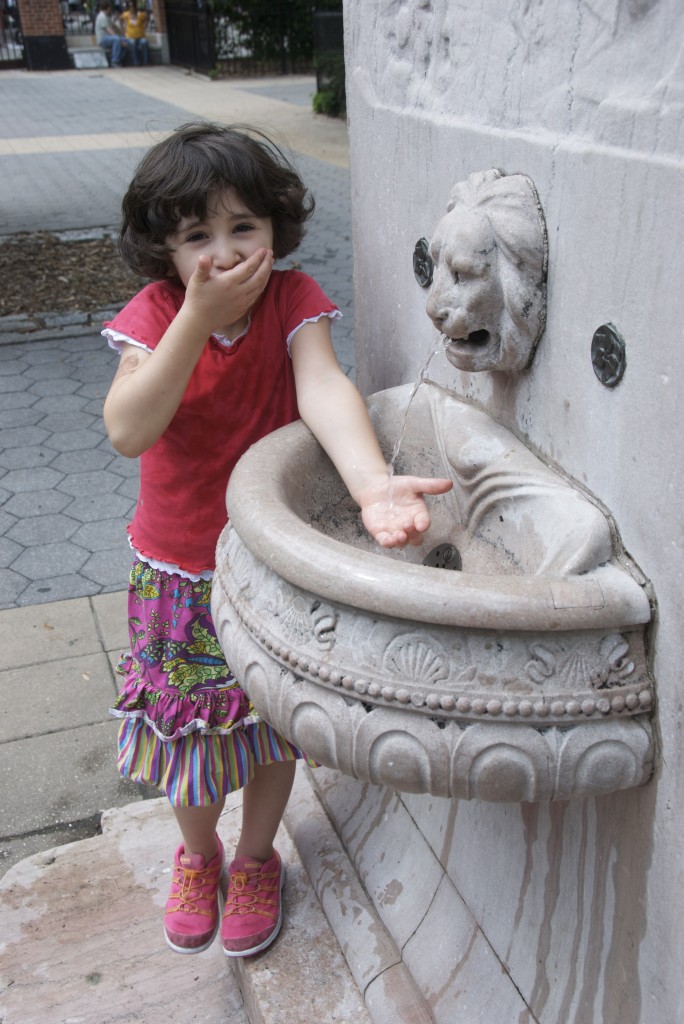 The monument is right next to the sprinkler area of the park. It's at least a little heartening seeing little kids (that's Maxie, above) running and playing around it.