I got a bunch of email after this picture of Crystal hit the wires:
Honestly, I hadn't seen Crystal in four months and I picked up the phone and left her a message: DO YOU REALLY LOOK LIKE THIS? I DON'T THINK YOU LOOK LIKE THIS. BUT IF YOU LOOK LIKE THIS YOU ARE COMING OVER HERE AND I AM FEEDING YOU.
She called back right away, laughing, saying she was totally fine. Then she called again, not laughing. She'd just seen the pictures I was talking about. (She'd initially thought I was referring to a different, older picture.) She was so upset she could barely form sentences. Not only was she worried about young girls with eating disorders who might think she'd lost a gazillion pounds, but she was also worried about hurting the charity she was posing for. (See, I keep telling you, she is a lovely human being.) I said I wouldn't say a word until she and her agent decided how to respond.
Meanwhile, my mother-in-law emailed me. She'd seen the pictures. Oh my God, was Crystal anorexic again?
I can't imagine what it must be like to be Crystal, living under this kind of scrutiny. And as I've said, I don't think the obsession with Crystal's thighs has any impact on the day-to-day lives of actual fat people. Crystal doing the Jean Paul Gaultier campaign is awesome but will not make airplane seats wider or increase tolerance of XXL people. But it must suck to have to strategize about issuing a statement: Hi, I happen to be exercising regularly for the first time in seven years, doing yoga and hiking, not being an exercise-bulimic lunatic
the way I was as a teenager, and hi, here are some stills from my actual unretouched bod on that actual shoot. Which is what she told Glamour today. And here are the stills.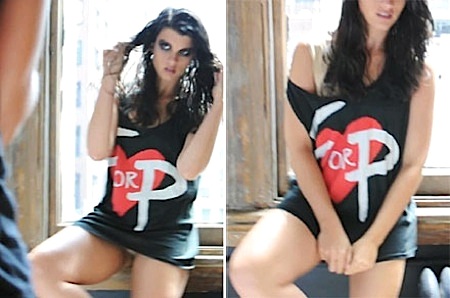 So to my mother-in-law, and everyone else who emailed: Crystal's great! And look, thighs!