Kvelling like a mofo over here. Tablet Magazine let me do a piece on Josie's Bat Mitzvah, which I realize is already in dangerous STFU Parents territory. But THIS IS MY BLOG SCREW ALL Y'ALL LOOK AT MY NAVEL ISN'T IT PRETTY. In other words, I'm gonna spew some more.

Lovely pix are by Cristobal Vivar and Deborah Copaken (yes, that one, author of Shutterbabe). Crappy pix are by me.
Look, here's us!
Josie's book-spine dress is from Etsy, as is Maxie's skirt featuring the covers of different children's books. Jonathan's tie depicts bookshelves. I gave myself a newsprint manicure. (This pic was taken at the rehearsal a few days before the event and I hadn't done my nails because I am a schlemazel and I figured I'd mess them up if I did them too early.)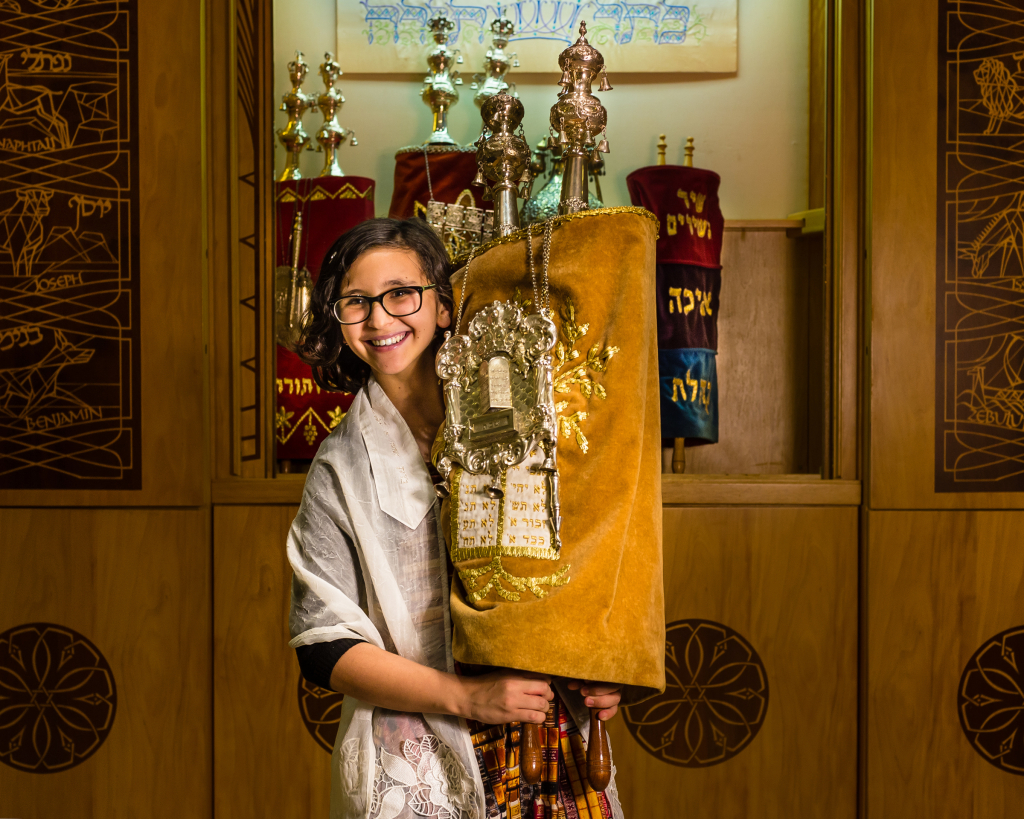 Below: The save the date card and the invitation.
For the invites, Josie picked the font (Lucky Typewriter). The images came from Casey Rubber Stamps, the awesomely old-school business on East 11th Street. (The one stamp I wanted that they didn't have — a small stack of books — I bought on Etsy, but I was a moron and didn't realize it didn't come attached to a wooden block. So I asked Casey for a block, and they glued it on for me and wouldn't take any money. Because they are mensches.)
My friend Kim did the Hebrew font. Beautiful, right?
We put this sign over every toilet. HaMaveen yaveen, as my mom says. Those who get it, get it. (I'm sure YOU get it.)
We surrounded the flowers on the tables during the Kiddush with these little hearts, cut out of old library catalog cards. Etsy again.
The program, designed by our pal Jack Taylor. Again, haMaveen yaveen.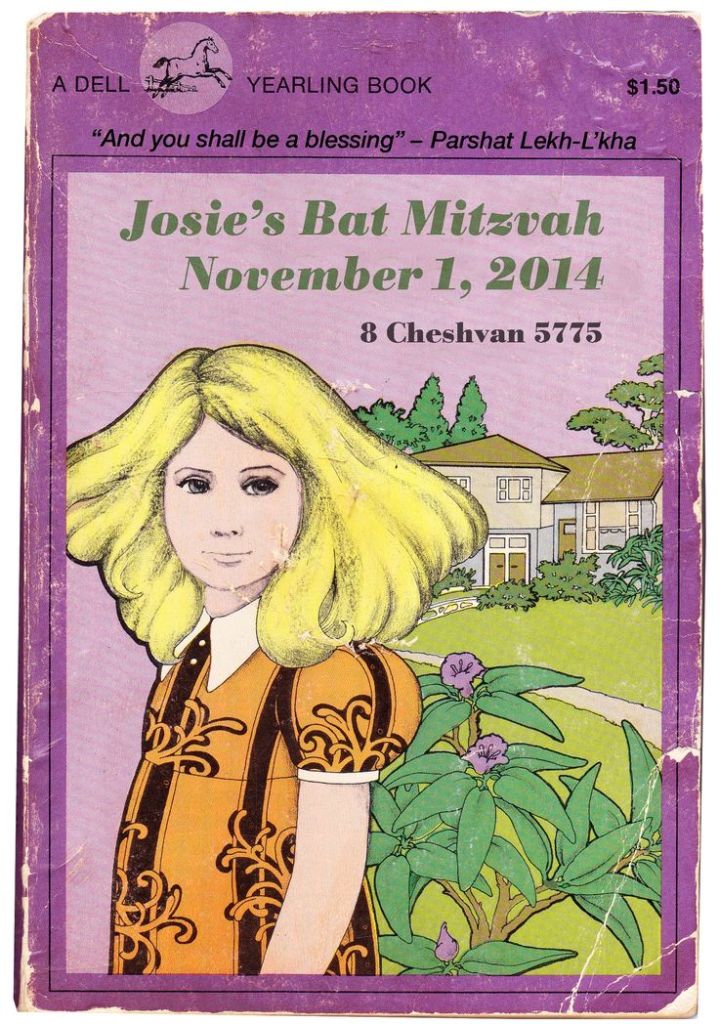 On the bar: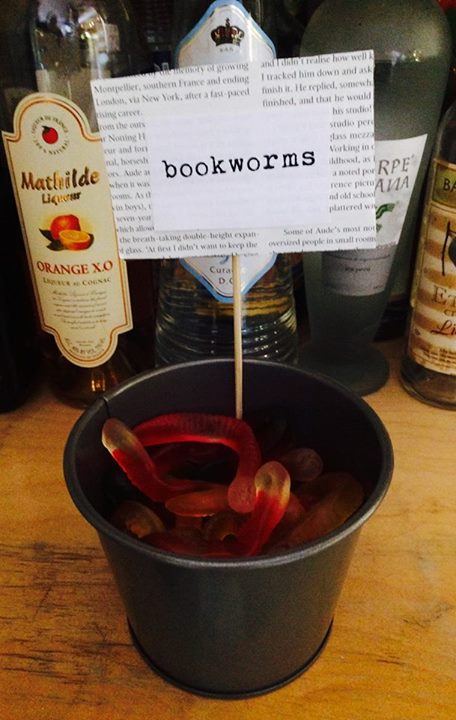 Josie rocked it out at the service. I got my spiritual and feminist kvell on in the Tablet story so can I just gush about the party now? It was in the Rare Books Room of the Strand bookstore. Josie changed to an Alice in Wonderland vintage-illustration skirt (Etsy again) and Maxie to a Harry Potter dress (guess where). One of the younger guests came in costume as Hermione. (Except she was not in costume. She WAS Hermione. Duh.) The tables were named after Alice in Wonderland characters.
Please note vintage copy of All-of-a-Kind Family. (We have a pretty extensive collection of vintage children's books, but Josie and I made a few jaunts to find more to use as decor. We got some great treasures at Renaissance Books, a fab used bookstore at the Milwaukee airport, and at Housing Works, where we got a vintage K'tonton in Israel book for a buck.) The flowers were from Whole Foods, we rented inexpensive table runners from cvlinens.com, they offer high-quality tablecloths, perfects for this occasion. Josie and I made luminaria bags filled with LEDs and rubber-stamped with images of vintage typewriters.
Jonathan hates fluorescent lights like Satan. But the bookstore's hanging lights were expensive to rent. So Jonathan got vintage-y Edison bulbs on the Interwebs and clipped them to the shelves. He's a very competent fellow.
Welcome to the Cheshire Cat table. Two writers' kids, one literary agent's kid, one creative director's kid and one lawyer's kid (we adore her anyway).
Cheshires being adorable.
Josie picked a book for every kid. We got most of them at McNally-Jackson, a bookstore I adore beyond all measure. A lot of her friends are serious readers, but some are not, and some have READ EVERYTHING, so she was very serious about finding just the thing for every guest (and not repeating ANY books, which is a bummer because we totally could have gotten all the little kids El Deafo). The salesperson working at the children's department at McNally was super-duper-helpful. As it turns out, she was National Book Award longlist nominee Kate Milford, whose latest book we were coincidentally reading at bedtime. HELLO.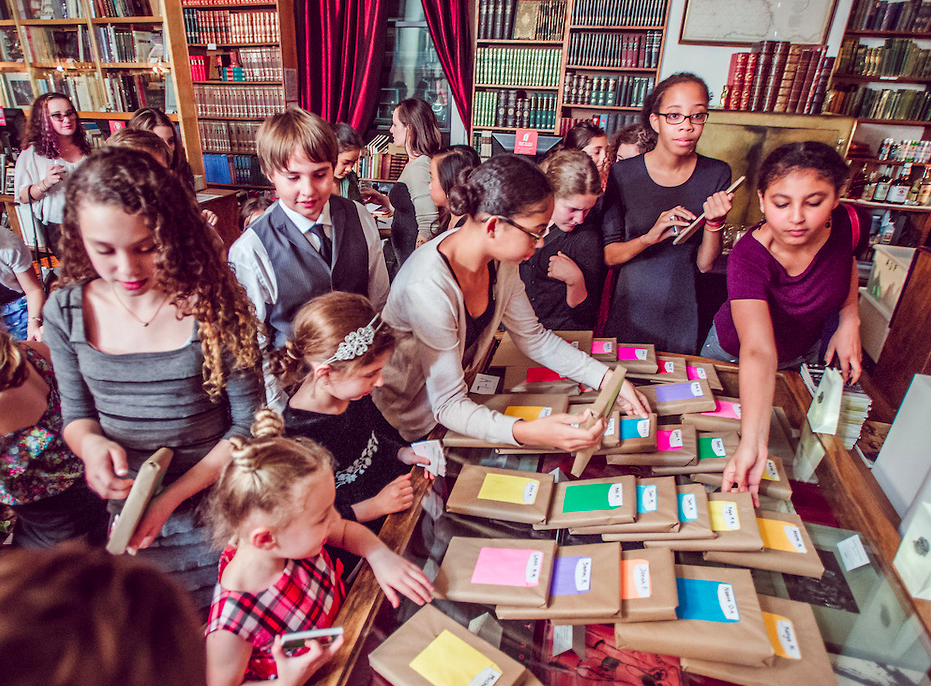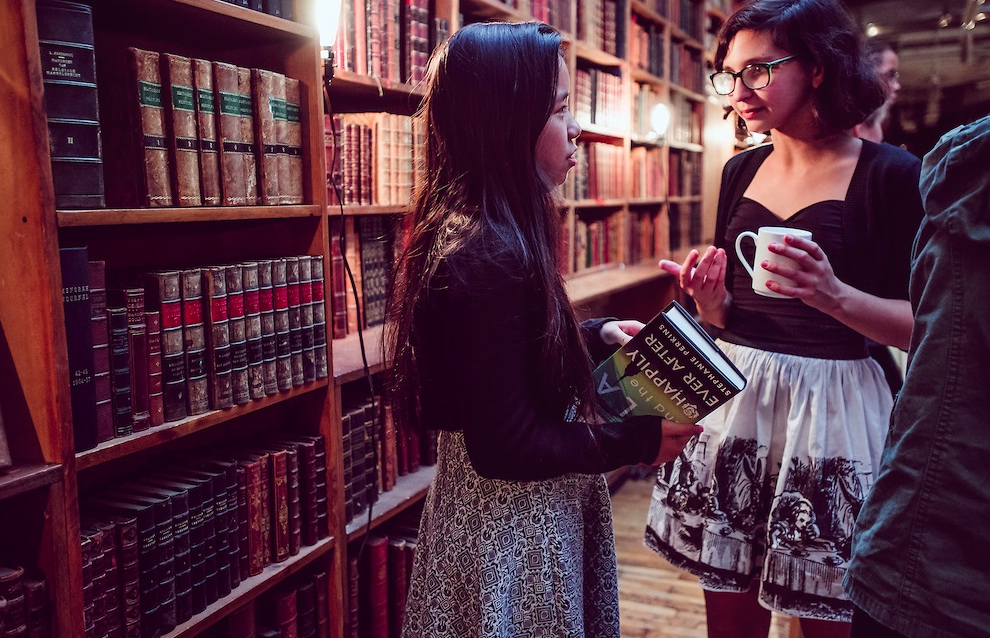 It was a very successful party. I'll email you the list of gift books if you want.
People of the book OUT.