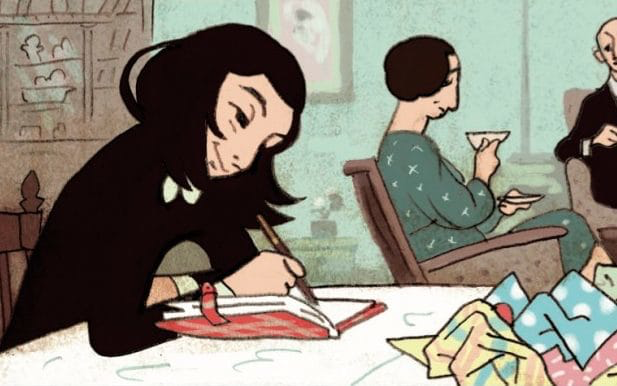 Oops, I forgot to share the The Best Jewish Children's and Young Adult Books of 2018! Shop quickly?
Behold, a very shallow dive into Ruth Bader Ginsburg's love for scrunchies!
In other news, I just got back from the UK, where I was doing book-related events for PJ Library. Fun but exhausting.
Since my brain isn't really working yet, let's discuss the movies I watched on the plane!
The Spy Who Dumped Me: Like Melissa McCarthy's Spy, it was undervalued because it focuses on underestimated female characters. O WHAT A SHOCK. It was so funny, and it's nice to see a movie in which the central relationship is a friendship between two women. Kate McKinnon is reliably weird and hilarious; Mila Kunis keeps proving herself to be a super-underrated straight man [sic]; lots of delightful performances in small roles; Gillian Anderson is delicious as ever. Big ups. (On my last flight I saw Oceans Eight. Also underrated, same reasons.)
Deadpool 2: I had boycotted this in theaters even though I loved the first Deadpool movie, because I'm annoyed that cool dudes like Ryan Reynolds pretend to be evolved sensitive New Age guys but then keep hiring dudes like TJ Miller. (It would have been REALLY easy to write Miller, who is clearly the scum of the earth, out of the sequel. You're pullin' a Rowling here, Ryan. Not very Canadian of you.) But I figured I could allow myself to watch it on the plane because that doesn't enrich anybody? And damn, it was fucking hilarious (if problematic) — at one point I needed my inhaler. Zazie Beetz!
Love, Simon: Turned it off after 20 minutes. Zzzz. Loved the book though.
Irksome: Crazy Rich Asians and Blindspotting were listed in the in-flight magazine but were not available for viewing. Same with the British TV show "A Discovery of Witches," which I had not known existed until I saw the title in the mag and was TAUNTED by it, because it is based on a series of books I hate-read and I was looking forward to hate-watching but was cruelly deprived. DAMMIT. Also, Virgin Atlantic, you are BRITISH and should know that the name of the book/movie is Howards End, not Howard's End. I am a pedant. Not news.
Read: Half (1/2) of Hilary McKay's Love to Everyone (published as The Skylarks' War in the UK, shortlisted for the Costa Children's Book Award this year). Loving it so far.
Also on my travels, saw the gender-flipped production of Company in London. HOLY SHIRTBALLS, so good. I'd always thought of Company as a dated and sexist show with great songs. Now it's a great show with great songs. Making Bobby into Bobbie fixes so many problems! Being 35 and single (TICK TOCK) is different for women than men; having the dumb flight attendant who sings "Barcelona" with Bobbie be a guy makes the song feel less predatory; making one of Bobbie's friend-couples gay, and having the younger and cuter guy flip out before their wedding and sing "(Not) Getting Married Today" adds all this modern resonance: Like, are LGBT people being too pressured to model the rituals and conventions of straight folk? Plus the staging and performances were aces. Props to Sondheim for letting director Marianne Elliott (of the spectacular Angels in America that left Broadway a few months ago) and company adapt his work. The show's apparently coming to NYC; do not miss. (The perfectly delivered line "my very…own…Jew" will go over bigger here. It made the British audience anxious.)