Excuse me while I kvell. (No, not "keel," you freaking WASP autocorrect.) My teenage daughter made our Passover Haggadah, in the style of a zine, and the '90s are totally back as I am sure you've heard.
Until this year, we used the Elie M. Gindi Family Haggadah — it's an accessible, kid-friendly, abbreviated choice with a lot of Hebrew. And until this year, I made a supplement of songs, readings, and poems to keep guests a bit off-balance, hopefully in a good way. But this Passover, Josie took over, which was a huge weight off my shoulders, since we hosted two sedarim of 17 and 18 people in an NYC apartment. Which means that moving furniture and cleaning off disgusting bird-poop-encrusted outdoor Costco tables is as much a part of the prep as cooking. Josie recycled four of our old songs: "Do You Hear Our People Sing," for a Tisch theater major guest; You'll Be Back" (Pharaoh's anthem!), for my Hamilton-loving nephew; "Here Come the Plagues," for a Beatles-obsessed guest; and "Let Us Go," for my five-year-old niece. Josie added two poems: "Home" by Warsan Shire and "Prisoner" by Malcolm King. To our family, this holiday is very much about considering ongoing injustice, oppression of refugees, and the systemic bias facing those lacking freedom and autonomy today. But it's also an opportunity to eat and sing. Josie's emoji version of Chad Gadya, the traditional seder counting song, was a particularly big hit. (MONEY MONEY GOAT, Y'ALL.)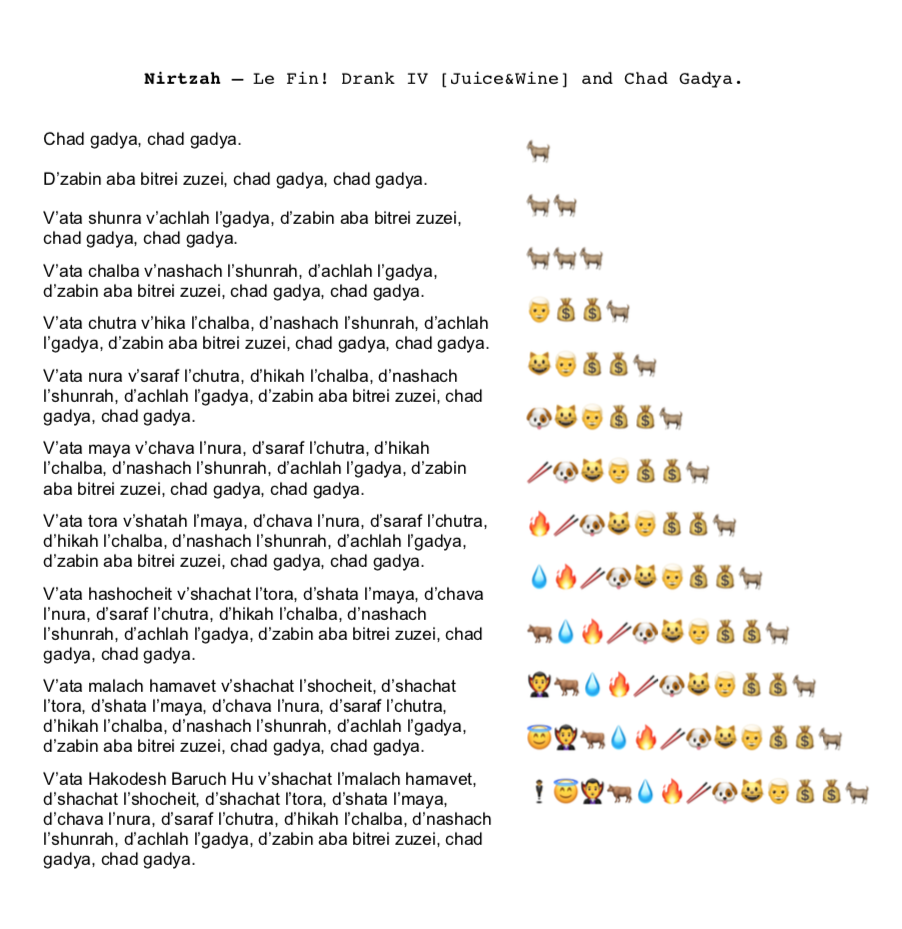 We also participated in a program called
2forSeder
— begun by a woman who lost her mother-in-law (and seder-planning partner) in the Tree of Life shooting in Pittsburgh; 2forSeder encourages Jews to invite two non-Jews or seder newbies, as a form of bridge-building/outreach. Which meant it was a good time for us to go back to the essentials and be reminded of what the structure of a seder (the word means "order") is, and what messages we want to convey within that structure about our Jewish values.
In non-Passover news, I wrote a piece bemoaning the massive number of
children's picture books about Coco Chanel,
a horrid person. Please read this piece and write picture books about fashion designers who are not Coco Chanel. Thank you. And in further bitching, I wrote about a
book celebrating renegade women in TV and film
that once again gives Jewish women the fuzzy end of the lollipop. (A phrase delivered by a Jewish actress — Marilyn Monroe converted! — from a script by two Jewish dudes. An aside.) And on SorryWatch, here are some
musings
about apologies from those involved in the college admissions payola scandal.
Happy Passover, happy belated Easter and Ostara, impending Ramadan Mubarak, and a springtime of renewal and growth to all.