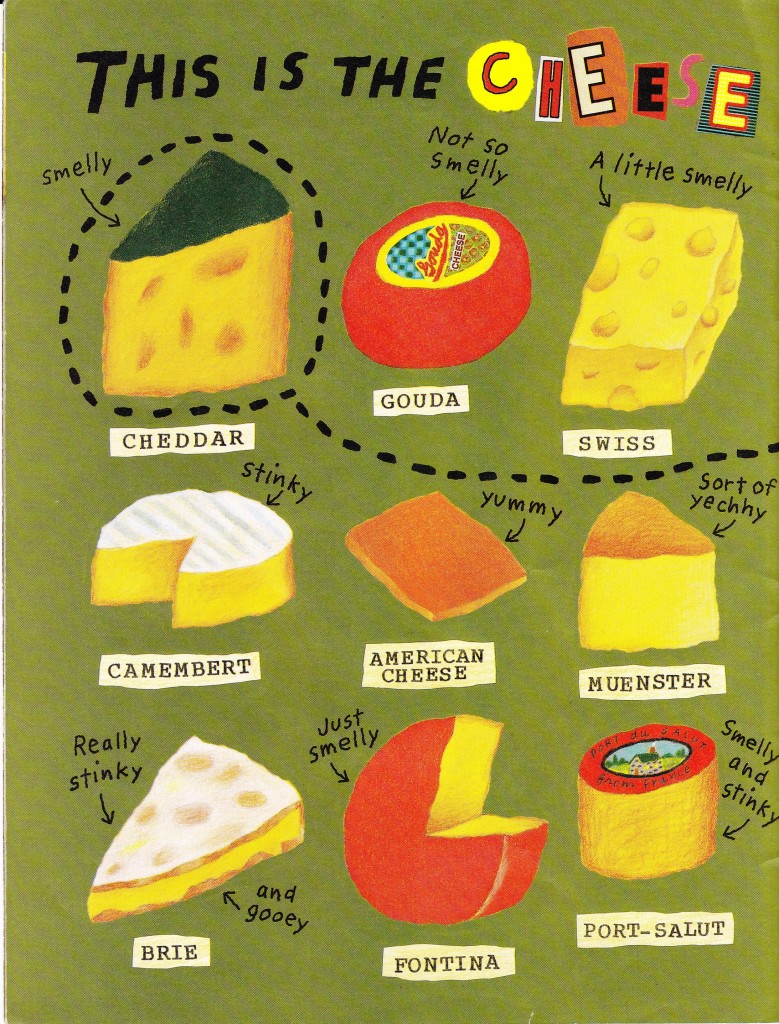 I'm really proud of this appreciation of artist and children's book illustrator Simms Taback. I wrote it and Tablet's art director, Len Small (also a huge Taback fan), designed the accompanying slideshow.
The stinkiness-of-cheese taxonomy above is from The House That Jack Built
— we ended up not using it in the piece because instead we chose the awesome, freaky rat who smelled the cheese that lived in the house that Jack built. That's the thing with Simms Taback — EVERY illustration is fabulous.
I think my favorite Taback is the Caldecott-Medal-winning Joseph Had a Little Overcoat
, but it's a tough call. I also love I Miss You Every Day
, in part because I love hearing my kids sing the Woody Guthrie song it's based on (they learned it in school) and in part because that ache of missing someone and that wish to be able to mail yourself to that person feel so real and intense. (And yum, delicious picture of candy.) In the Tablet piece I didn't even MENTION Taback's little-kid board books, many done with Harriet Ziefert, or Road Builders, the paean to construction equipment he wrote with B.G. Hennessy. Maxine was addicted to that one for several months. Given that the diggers-and-steamrollers genre is possibly the most boring literary genre for parents (and one they have to put up with for that weird obsessive OOH-A-BACKHOE developmental phase), only Simms could make it tolerable. Road Builders should be given to every new mom, along with a Boppy and food she can eat with one hand.
Scrap that. If you can afford to, give every new parent a library of Taback books. You can't go wrong.