Yesterday Josie and I marched in the NYC Labor Day Parade with the Remember the Triangle Coalition — 2011 will be the 100th anniversary of the fire that changed New York City. We had an amazing experience, even in the rain.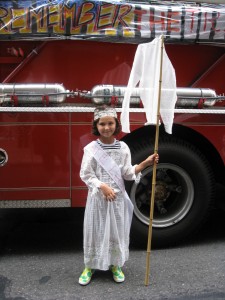 I am obsessed with the Triangle Factory Fire. I devoured the brilliant book by David von Drehle, I've written about it for The Forward, and I've participated for a couple of years in a wonderful art project called Chalk, in which volunteers fan out across the East Village, Lower East Side and Brooklyn to write the victims' names and ages (they were all so young, mostly girls) in front of where they used to live. Last March Josie chalked with me, which was wonderful. She chalked for Kate Leone, one of the youngest victims, who was 14. Josie has developed her own interest in labor history, the fight for women's suffrage, and the fire. It started when she read a children's book (one that she found on her own) called Gotcha! (part of a trilogy about a girl named Rosie whose mother works in the garment factories), by Carol Matas, in which a little immigrant girl becomes an activist for workplace safety and worker's rights. I LOVE that Josie and I share this fascination. (I just got Jacqueline Davies' new YA novel about the Fire, Lost, but want to make sure Josie's old enough to read it — if there's "lovey stuff" in it, or it's too graphic or gruesome, it's a non-starter — she's still only seven.)
Anyway, Josie made a friend (what else is new) in the parade, she got to help make sashes (the names of the 146 victims were written on sashes worn by the marchers) and enjoyed carrying her stick. Josie wore a sash for Kate Leone. (I marched in memory of Jennie Stein, who lived very close to our apartment.)Â As I've written before, Jonathan's distant relative was Max Steuer, the lawyer who defended the factory owners. I've exchanged email with Susan Harris, a granddaughter of Max Blanck, one of the factory owners. I was happy to meet her at last in the parade; she came in from California with some of her family. She does beautiful embroidery of victims' names on vintage shirtwaists as a way to address her familial history. She loaned Josie a gorgeous vintage lace dress to march in.
It was good to march with current garment workers, good to share this experience with Josie, and good to think about how some beauty came out of tragedy. We wouldn't have workplace safety laws if not for the awareness of worker exploitation that came out of the fire. (But someone needs to remind Wal-Mart.)