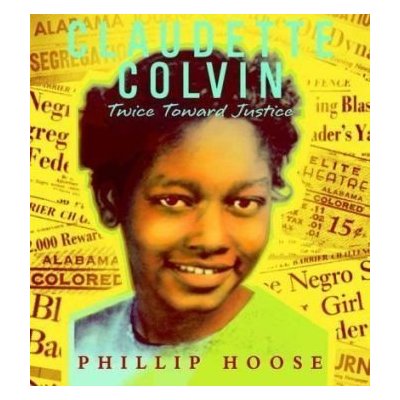 New Tablet column, about celebrating MLK Jr. Day, is here.
I thought about putting some video here of the girls singing "Back of the Bus" (made famous by Pete Seeger, but written by Charles Neblett) … then my tiny brain said hmm, this may be one of those situations in which MommyMe is about to trample the general good judgment of EditorMe. Granted, I find my children profoundly adorable and it is touching that they know a bunch of civil rights anthems and sing them in their Benetton-ad school, but let's face it: it's also kinda cringe-inducing to put up a vid of two little white NYC girls singing about getting to use the swimming pool instead of the Mississippi River.
So, no song for you.
In other nice MLK-spirited news, though, the American Library Association's children's literature awards were announced this AM, and Claudette Colvin: Twice Toward Justice won a Newbery Honor. For those not as obsessed with children's books as I am: Colvin was a teenage girl who actually refused to give up her bus seat before Rosa Parks did, but civil rights leaders decided that a 15-year-old girl with a bit of an attitude was not the representative they wanted, so they hand-picked a more press-friendly, older, church-going, well-dressed, hat-wearing lady to be their standard-bearer. Colvin has been edited out of history, so big ups to Phillip M. Hoose for telling her story. Ironically, I just finished Gail Collins's book about the history of the American women's movement since 1960 (more on that another time), and Collins proves the importance of Hoose's book by mentioning, in passing, that other candidates were rejected by the NAACP before they picked Parks. "One of the women, a teenager, had a slightly disreputable family," Collins writes. And that's it. And this is a book that deals with (yes) the way women have been edited out of history!
Anyway, I haven't read Hoose's book yet, but have it on hold at the library (along with Marching For Freedom: Walk Together Children and Don't You Grow Weary, another book about young people in the civil rights movement that came out this year to a lot of acclaim). So yay on great books on this MLK Jr Day.
In other award news, the Caldecott Medal, the big macher of shiny stickers for picture books, went to an African-American artist (for only the second time in history, apparently): Jerry Pinkney, for The Lion and the Mouse. It is by all accounts a ravishing book. But I gotta say that painterly art in children's books isn't my preference. I am a goob who likes more cartoony or offbeat stuff. Doesn't mean I'm not psyched the guy won.
You know, I was thinking about what my kids would say their favorite books published in 2009 were. Josie informs me that she would have picked The Dunderheads and The Last Olympian. Her runners-up, she says, are The Magician's Elephant and The Secret Science Alliance and the Copycat Crook (attention, author Eleanor Davis: Josie is salivating for a sequel). Meanwhile, Maxie is currently watching Backyardigans and therefore cannot hear me ask a single friggin' thing, and yes, I do let my children zone out in front of the TV, thanks for asking. But based on the number of times she's asked me to read the following books, I'm guessing she'd pick Higher! Higher! Waiting for Winter, The Snow Day or Moonshot. That's quite a motley assortment (and to continue the hellish digressiveness of this post, I gotta say, the translation of Waiting for Winter bugs me, because it tries to be colloquial and comes out a little stilted, but it's still a really odd and beautiful and funny book, and this is about my kids' favorites, not mine, so I'll get out of this parenthetical now while the getting's good, though, truthfully, I shouldn't have gotten in here in the first place, sorry). Anyway, I haven't read most of Josie's choices, but I think Maxie's all have terrific storytelling/pacing and great art. Otherwise, they're wildly different from one another…and you could argue that she's too old for Higher! Higher! and too young for Moonshot. Which I would argue means that kids know what they like.
Which brings me back to the Caldecott award. I don't get why the librarians give an award for picture-book illustration only. To me, the pictures can't and shouldn't be viewed separately from the story. To Maxie, too.
Hm, cranky and meandering much? I sound like Andy Rooney. Or an installment of Short Attention Span Theatre. This is how I get after a long weekend with my children. (And why Max is watching Backyardigans and I'm blogging.)