Mind your head! Fasten your safety belts; clench your buttocks! It's going be a bumpy ride!
Nah. We had a great time, and I believe we successfully minimized the sullenness that the teen/tween visitor is prone to. Here's an account of our trip, which might be useful to know if you are planning a visit yourself with tweens/teens of your own.
We arrived on Christmas Eve morning and powered through the time change. Our wonderful friends who hosted us live in Kew, so we hung out at their house a while, then hit the local church Christmas nativity program. We followed up with a delicious Christmas dinner and a hearty ecumenical game of dreidel, then collapsed.
On Christmas Day we opened presents and lazed about, then took a brisk walk on the banks of the Thames. (I keep wanting to pronounce it "THAYMES" because that is how it is said in my ancestral homeland of Rhode Island. Shut up.) The path was packed earth, and tree-lined, and felt wilder than it would if we were walking in London proper. We did more typical tourism on Boxing Day, visiting The London Eye (whatever, the kids loved it and you have to do it), but also the Leake Street Graffiti Tunnel. The latter is a long tunnel under Waterloo Station used in 2008 as an art installation by Banksy; it's since taken on a life of its own, with elaborate graffiti art, changing almost every day, created by dozens of artists.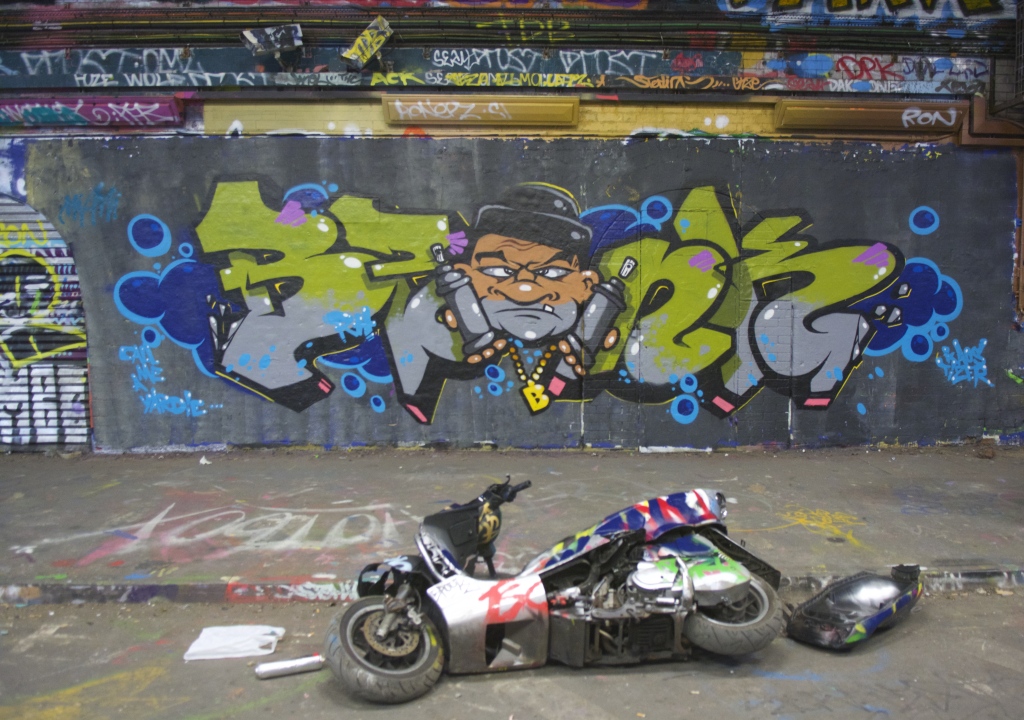 That evening, we went to Christmas at Kew, a celebration of fairy lights at the Royal Botanic Garden. Everything is sparkly and lit up and glittery and musical. There are little fireplaces where you can toast very, very expensive marshmallows. There is hot cocoa and a carousel for kids. And all kinds of trees and giant flowers are rendered in lights. Even though it rained like a mofo, we all enjoyed ourselves.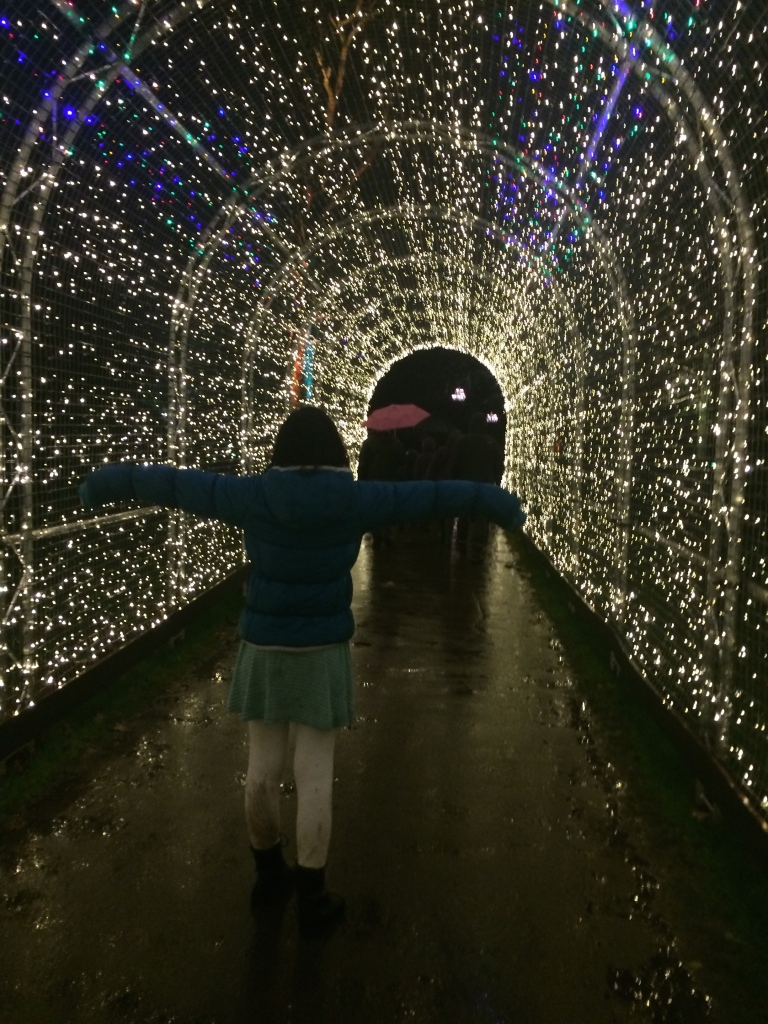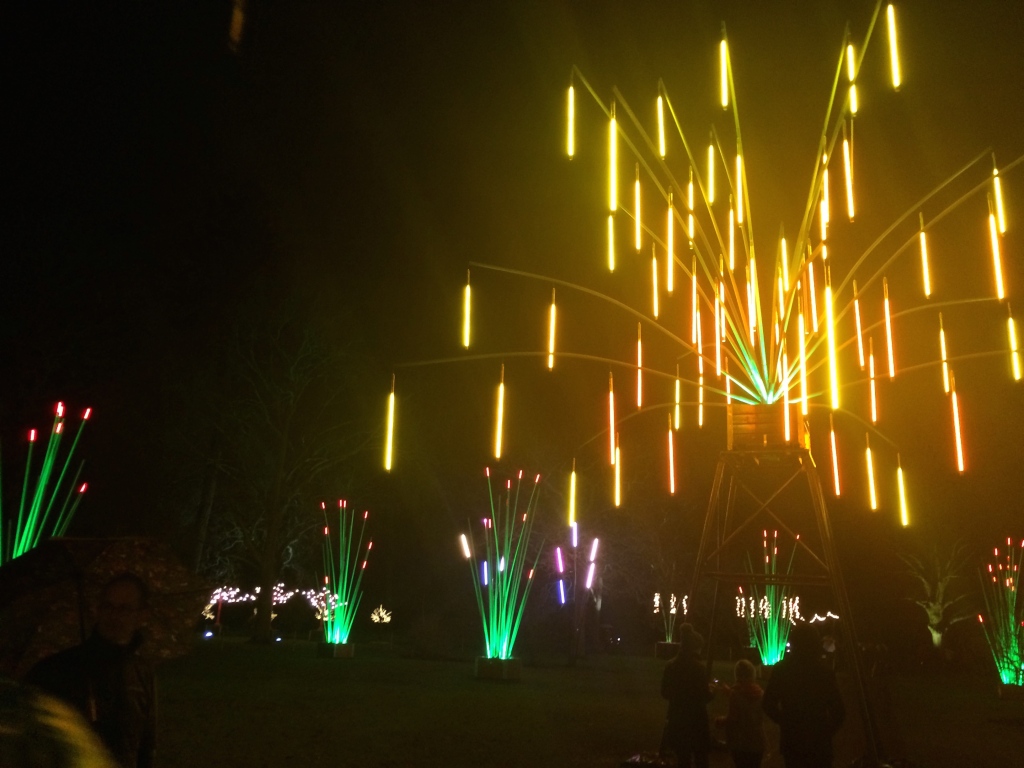 The next day we went to the Museum of London (a manageably-sized, creatively curated museum with kid appeal) — the five-year-old we were with loved the Paddington Show, the adults loved the info on ancient Londinium, on theatres that were not The Globe, and on the Great Fire; the teen loved the Sherlock Holmes show. (We saw Benedict Cumberbatch's coat. And learned a lot about Conan Doyle, fog, publishing and the layout of the city. It was nerdily excellent.) Then we had the obligatory afternoon tea, though we skipped the super-expensive places and went to a wee shop called Bea's of Bloomsbury. The scones and and other treats were delicious, though the service was less so and the German lady at the counter did not believe that my signature on the credit card receipt matched the one on the card itself and ordered me to provide additional identification. (Yes, lady, I am trying to steal your scones.) But the tea itself was lovely and fun and just the right amount of elegant for this crew.
That evening, we took the Shakespeare-loving teen to a production of Merchant of Venice at the Almeida Theatre, which transposed the action to a casino in Las Vegas. Nerissa hosted a reality show about Portia's suitors' attempts to choose the right casket, and Launcelot Gobbo was an Elvis impersonator. It all worked — the play is about greed and debt and gender roles (Nerissa and Portia played up their pretty party-girl dimness for the cameras, but turned off the teeth-gleaming charm when they were alone), all of which feel very Vegas-y, and this production embraced all the problematic elements of the text. (The play IS anti-Semitic…but because Shakespeare was a good writer, Shylock is both monstrous AND sympathetic. By turns. And truly, so is Portia.) I was amused when I sat down and suddenly realized that the actors were going to do American accents — oh hell, I brought my kid to LONDON to hear a guy do a Jersey gangster voice? And indeed, the regional results were uneven. (Oy, Jessica. Oy.) But the play was still utterly comprehensible, a testament to British acting training rather than British fancypants plummy vowels. And the interpretation was clever, valid and visually delicious, and the denouement was as moving as in any production I've ever seen.
The Merchant of Venice Trailer | Almeida Theatre, London.
The next day we went to the Warner Brothers' Studio Harry Potter tour. I'm writing about that for publication, so I won't say more now except get your tickets EARLY EARLY EARLY. Also, wear comfortable shoes.
The next day we briefly visited a picturesque old country graveyard, North Sheen Cemetery, to the delight of the two goth-y wee ones (I KNOW), then hit the Victoria & Albert Museum. The kids loved the dress-up area in the Theatre section, and I enjoyed the old Jewish ritual objects, and we all loved the wedding dress exhibition (from vintage dresses to Kate Moss and Gwen Stefani's gowns!) and costume section, which was WAY less crowded than the equivalent at the Metropolitan Museum here in NYC.
The kids then did the chicken dance in front of the Katharina Fritsch blue cock statue in Trafalgar Square. (It's playful and attractive snark by a lady sculptress mocking strutting masculinity and ancient manly military men and current captains of commerce! Whee!)
Then we roamed for a while, visiting Fortnum & Mason to gaze at gorgeous candy and Cecil Court to look into the antiquarian booksellers and record stores. (And we saw Nazi medals, whoo!) (Not showing you the Nazi medals, whoo!)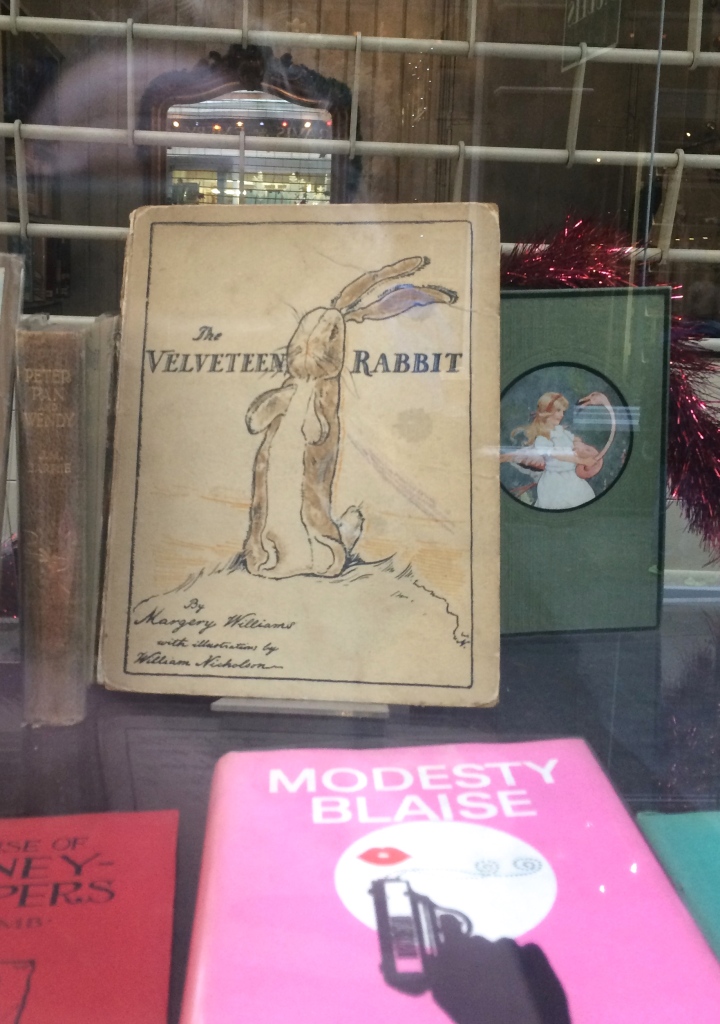 Finally we hit The Globe Theatre, which sent the teen into orbit. The building was impressive; the exhibition was intriguing; the tour was super-fun thanks to our witty guide. We learned that the seats above the stage were the most expensive and had the crappiest view, because the lords and ladies up there were at the theatre to be seen, not to watch a play. If you had to go to the bathroom, you'd just pee on the floor. (Cue shrieking from the kids.) If you got bored, you could make time with (the guide glanced at the children) "the laaaadies of negotiable affeeeections" who hung around the theatre. They were known as the Winchester Geese, because their makeup was white so they looked goosey and because the brothels had to pay tax to the bishops of Winchester. (In Henry VI, the Duke of Gloucester calls the Bishop of Winchester "thou that givest whores indulgences to sin" — meaning he encouraged prostitution because it increased his coffers.) We also got to see young theatre students rehearsing a swordfight (our friend pointed out that all stage combat teachers on the planet are apparently issued a long ponytail when they take the job, and IT IS TRUE). And at the gift shop, Josie got a bunch of manga Shakespeare. (Except for Julius Caesar, which she hates. Like all sane middle school students.) She's doing a Powerpoint presentation about the Globe, though she does not yet have an audience for it. Feel free to come over. You don't get a Yorick skull, though, sorry.
On our last day we left younger kid at home with our friends' kid — she was exhausted. Travel is tiring. With teen in tow, we hit Tate Modern (did you know it's not "The Tate Modern"? I didn't!) and I was delighted to see the zillion-dollar Donald Judd sculpture that the entitled nine-year-old climbed all over last year. Damn, that was a nifty people-are-assholes story. And it only got better when the parents explained themselves. (Sissi Belle is anti-establishment! She has climbed on all the best sculptures!) But I mean, look at it. This piece is too minimalist and SCREAMS for a nine-year-old jammed between the slats.
We also liked the Nam June Paik stuff (and learned he lived around the corner from us, at 110 Mercer Street! It was the address on a newspaper addressed to him that he painted/editorialized on!), especially the eggs-on-TV piece and the TV-filled robot made of vintage bakelite radios.
Art with a sense of humor is awesome.
The teen tolerated Tate Modern, but ADORED Liberty of London and Cath Kidston. I think if your kid appreciates shopping as prettiness, rather than actual commerce, she'll love Liberty, because it's crazy and huge and lets her get close to insane gorgeous British fashion she could never afford. We purchased only a meter of discounted remainder fabric (teen's friend has mad sewing skillz), a trio of wee floral-fabric-covered lavender sachets for my mother-in-law, and a small jar of mismatched buttons for the button-loving tween. (Our friend's child looked at them and said quietly, "Don't sleep with those by your bed. They could turn into your mother's eyes." Thanks, goth tween! Thanks, Neil Gaiman!) At the more reasonably priced Cath Kidston, teen got a sky-blue barkcloth skirt printed with images of red double-decker buses. So touristy, but we are tourists. And look how cute.
I left out the two comic book store visits (Raygun and Orbital) and a visit to a swimming pool in our friends' neighborhood, which the porpoise-tween loved. Also I was just reminded of the time I scolded a 20something girl on the Tube for not giving her seat — an elderly/handicapped seat, no less! — to one of two tottering old ladies. (You can take the New Yorker out of the subway…) That hoor IGNORED me! An also-standing young man wound up poking a pair of 20somethings who were sharing another elderly/handicapped seat and CANOODLING in the FACES of the ELDERLY, and essentially ORDERING them to get up. That was fun. I enjoy my outrage.
You can see more pix and read more recommendations here.
The upshot: We had a wonderful time seeing our friends. We all got one tourist destination we wanted: Maxie had the Eye, Josie had the Globe, Jonathan had Tate (NOT "THE" TATE) Modern, and I had the motherly joy of making sure everyone had a thing they wanted. But Jonathan was bummed that we missed Buckingham Palace; I wish we'd gotten to The British Museum and The Tower of London (and our friend told us about Horse Guards parade grounds, a better place to see the palace guards than at the palace itself), the teen wanted more shopping and the tween wanted a toy store.
Next time.