We are a Covid-19 household, gearing up for Passover. Here's what I'm thinking about. This afternoon I'm making nut-free charoset, which should wipe me out for the rest of the day.
Last weekend was National Refugee Shabbat, which most of us missed, because it's super-hard to look beyond our own doorstep right now, which I totally get. Here's a list of excellent children's and young adult books about refugees and asylum seekers published since 2018 (since I last did a roundup of refugee books in 2017).
And a lifetime ago I went to San Francisco to see a museum show about Levi Strauss. It's really good. I hope other people get to see it as some point.
In other news, Susan McCarthy and I sold our SorryWatch book proposal! The working title is Sorry Sorry Sorry: The Case for Good Apologies. Look, we were a "Deal of the Day" in Publishers Marketplace!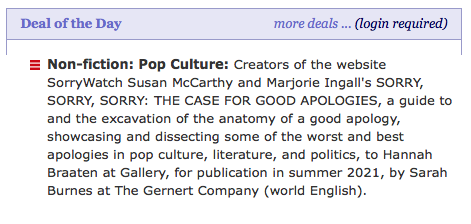 The book is now slated to be published by Gallery Books (a division of Simon & Schuster) in January 2022, when surely Covid-19 will be a dim memory and we all have hoverboards.
Healthwise, my husband and kids are feeling much better, thank you for asking. I'm lagging a bit behind them. (Maybe it's a secondary infection? I DO NOT KNOW.) The three oldest members of the household got pretty sick; younger kid may or may not have had a mild case. Regardless, we gave up on social distancing at home because it was making Kid #2 so depressed. Anyway, we're all doing fine; I still have a low fever and chest tightness/gunk, which is not fun but is better than a HIGH fever, dizziness, confusion, and really scary breathing trouble, which I had before? Always look on the bright side of life!