This week in Tablet magazine, my annual roundup of the Best Jewish Children's Books of 2014. Here are some additional titles I found notable.
Oh, and a reminder: I see my job as helping you buy presents that will make children happy. The ALA, National Jewish Book Awards and Sydney Taylor Awards people all have more knotty and complicated award-granting criteria. I do not envy those guys. I just get to go "OOH, TELL ME ABOUT YOUR KID AND LET ME TELL YOU WHAT BOOKS TO BUY FOR HANUKAH!"
Picture books:Â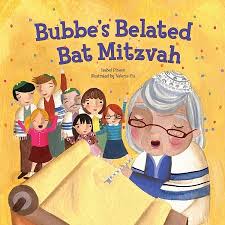 Bubbe's Belated Bat Mitzvah (age 3-7) by Isabel Pinson, illustrated by Valeria Cis. Cuteness. Naomi's great-grandmother has never had a Bat Mitzvah; she just crochets kippot for other people's celebrations. But Naomi encourages her to have a Bat Mitzvah of her own, at age 95, and the other great-grandkids help. The art is adorable and the story is touching. I'm just not sure the subject will entice most kids. Maybe if someone else they know is becoming Bar or Bat Mitzvah…?
Stork's Landing (age 4-7) by Tami Lehman-Wilzig, illustrated by Anna Shuttlewood. This is a very gentle story of a girl on a kibbutz who finds an injured stork and with the help of her dad nurses it back to health. A great choice for fans of our avian friends, with soothing washes of watercolor art. Who knew that Israel is the country with the highest number of migrating birds? 
Elan, Son of Two Peoples (age 6-9) by Heidi Smith Hyde, illustrated by Mikela Prevost. SO INTERESTING! It's by the author of Feivel's Flying Horses, which both I and my kids ADORED and you should totally buy. Everybody loves a carousel. I'm not sure everybody loves a late-19th-century dual-tradition coming-of-age ceremony set in both a shul and a Pueblo kiva hut. Especially picture-book readers who are too young to experience either ceremony. The serious, painterly art might be off-putting too. But I love the quirkiness of this story about a boy who has both a Bar Mitzvah in his father's tradition and an Acoma Eagle Dance ritual in his mother's. I was fascinated by the historical note explaining that the tale was influenced by the life of Solomon Bilbo, an Eastern-European immigrant to New Mexico who "opened a trading post atop a mesa and became fluent in the Keres Language. In 1885, he married Juana Valle, a granddaugher of a former Acoma Pueblo Chief." It seems that the couple raised their children as Jews, and later the family moved to San Francisco, where their son did have a Bar Mitzvah. Cool, right? Maybe kids who are especially interested in other cultures or who have grown up in two traditions will enjoy.
The Magician of Auschwitz (age 6-9) by Kathy Kacer, illustrated by Gillian Newland.  A fictionalized retelling of a story involving two real people, a child who survived the Holocaust and an adult magician who kept his spirits up. The story is intriguing, but the art isn't enticing — somber, muddy colors –and given that it's aimed at older picture-book readers, I wish there were more substance in the back matter.
Honeyky Hanukah (age 2-7) by Woody Guthrie, illustrated by Dave Horowitz. For little little kids, this is a little little ditty about candles, cuddling and community. Woody Guthrie's mother-in-law Aliza Greenblatt was a well-known Yiddish poet who lived down the street from Woody and his wife Marjorie in Coney Island. Aliza babysat and hosted Shabbat dinners; Woody wrote a bunch of songs about Jewish culture.  As the afterword notes, "Woody saw a strong connection between the Jewish struggle and that of his fellow Oklahomans during the Dust Bowl." Ecumenism FTW! The book comes with a CD of the song by The Klezmatics (a track from the 2006 album Happy Joyous Hanukkah). It's freylich and fun, and I like that it's about being together – no talk of historically unsupported miracles or encouragement of December Dilemma consumerism. I'm not a huge fan of Dave Horowitz's super-naïve construction-paper-and-charcoal art, but hey, that's me. And you can buy the whole Klezmatics album for less than the cost of the book, I'm just saying.
There is a new picture book bio of Albert Einstein I really disliked but everyone else seems to love. (It's about his first word, which in real life isn't known. I'm sorry, WHY is it OK to MAKE SHIT UP in biographies for really young readers? In a journalistic era replete with grownups who get themselves and their newspapers/magazines/book publishers in trouble for twisting facts or failing to confirm anecdotes, what kind of message about truth and history does this book send? Get off my lawn! Anyway, I loved last year's On A Beam of Light, so you could get that instead.) There is also a new picture book about Carl Sagan that I haven't read yet, but everyone I trust loves it. It doesn't explicitly mention his Jewishness, but it makes it clear he was a Brooklyn nerd, so I think that's CODED.
Chapter books:Â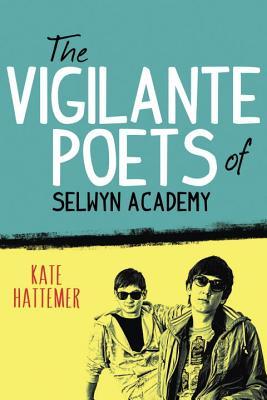 The Vigilante Poets of Selwyn Academy (age 12-17) by Kate Hattemer. YOU GUYS, I ADORED THIS. The only reason it's not on the Tablet list is because I don't think it's Jewish enough, even by my incredibly lax standards. But holy crap is it funny and deftly crafted and smart. The poets of the title are four friends — Luke, Jackson, Elizabeth and our narrator Ethan — who are horrified by a reality show being shot in their fancy private arts high school. (It's called For Art's Sake, and it purports to be about finding the best high school performing, literary or fine artist in America! But it actually involves lots of fake drama, reality-show-typical backstabbing and endless spit-swapping! With a "please pack your knives and go"-esque catchphrase:"THAT'S NOT ART!")  In English, while studying Ezra Pound's Cantos, Luke gets the idea for the quartet to write an anonymous broadsheet of anti-For-Art's-Sake Pound-inflected poetry. It becomes a sensation. But then Luke, who is hott, is recruited to be on the show, and he sells out and his poems shift from anti-exploitive-trash-tv to pro-show. The remaining three, with their adorable gerbil sidekick Baconnaise, try to figure out why Luke has betrayed them, what the school's motives are in hosting this show, and what is really real. I loved everything about the book: Ethan's triplet toddler siblings, his love of the tricolon in literature, his nerdy friends (one of whom is non-white, yay), his crush object Maura (a ballet dancer who understands the show is using her, slut-shaming her and manipulating her and everyone else, but who just wants to win so she can have enough money to get a Juilliard education), the kids' talented but troubled English teacher. It's a great mix of high and low culture. The peripherally Jewy content consists of one of the the book's central questions: Should knowing that Ezra Pound was an anti-Semite fascist dick in real life affect how we view his work? What if his late-in-life thoughts (like those of Fagin-pimping Charles Dickens) were "I should have been better"? BIG IDEAS AHOY.
[Aside: When Josie was 9 she was on a Bravo reality show, Work of Art, produced by Sarah Jessica Parker. (It was about finding America's next great fine artist, and it ran only one season.) The show approached Studio in a School, philanthropist Agnes Gund's wonderful organization that sends working artists into not-so-wealthy NYC public schools, looking for kid artists. Josie's fab Studio-sent art teacher Valerie Hammond suggested they use her for a challenge in which the artist contestants made companion pieces to work done by children. Josie was paired with a young woman named Lola, upon whom she immediately developed a crush. Lola was so talented! Lola was so pretty! Lola said such nice things about her painting! Well, it turned out Lola was a backstabbing bitch. And the show faked a whole bunch of things, and Josie was horrified at the LIES and HELLO MY CHILD WELCOME TO REALITY TELEVISION. BUT I DIGRESS. Where was I? I have a fever and I'm about to cough up a lung. Oh right, you should totally read The Vigilante Poets of Selwyn Academy and buy it for the arty/literary teenagers in your life even if it does not belong in a Best Jewish Books roundup.]
Red Madness: How a Medical Mystery Changed What We Eat (age 10-16) by Gail Jarrow. Again, only peripherally Jewy or it would SO be on my list. The scientist who did the bulk of the work on solving the puzzle of pellagra — a horrible disease that disfigured people's skin and ate their brains and slowly drove them insane — was a Jewish immigrant named Joseph Goldberg. That's the extent of the Jewy here. But the story is super-suspenseful, as Goldberg and other researchers try to determine what was killing thousands of people in the South in the years after the Civil War. The black and white photos of victims are gross, for those who enjoy gross. The descriptions of the way Goldberg and his colleagues tried to give themselves pellagra are also gross. (Hint: POOP EATING.) The book is a great lesson in how science works — how data are gathered and hypotheses proved, and also how human biases stand in the way of scientific progress (racism and classism meant that solving the mystery of pellagra and saving lives took much longer than necessary). It's also a triumphant example of science writing and historical research for kids. Brava, Gail Jarrow. (And YAY NUTRITION! and YAY NIACIN! and YAY FORTIFIED BREAD! YAY!)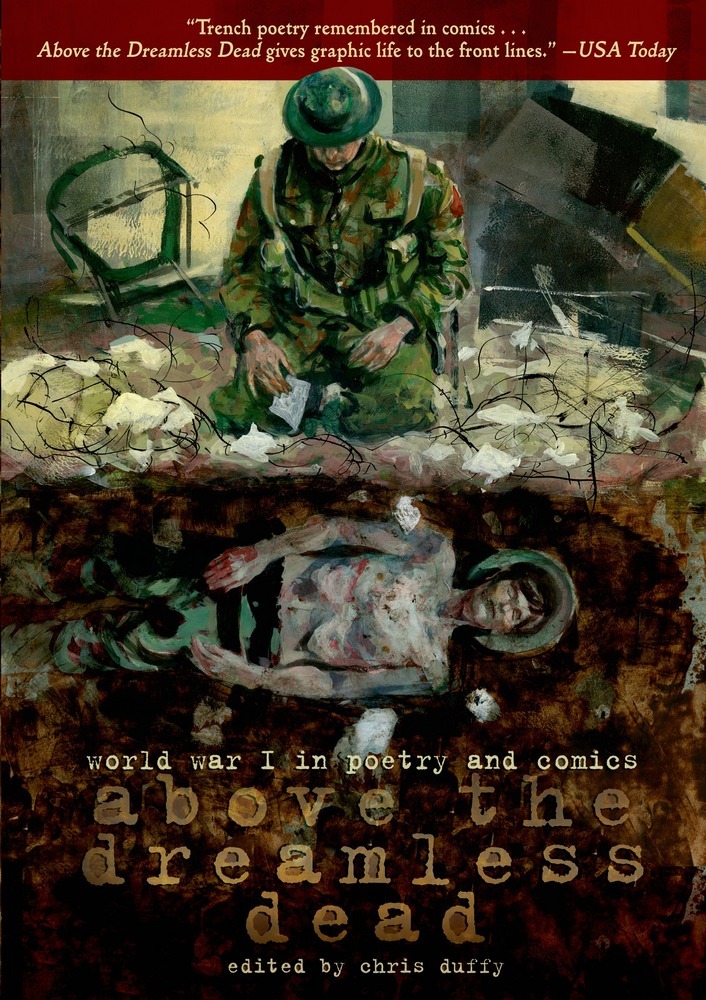 Above the Dreamless Dead, (age 13-adult) edited by Chris Duffy. This beautifully published collection of WWI trench poetry includes three Jewish poets. Each poem is illustrated by a different graphic artist. There are bios of both the poets (many of whom were very young, many of whom died in the Great War) and the artists in the back. The art is pretty much a survey course in today's graphic novel rock-stars, displaying even more variety than the vast span of poems. Most are anti-war, but in terms of form and tone, there's a huge range. If you have a young adult or grownup friend interested in either poetry or graphic novels, this would be a great gift. I'm still noodging Tablet to publish one of the poems with its incredible illustrations, so I shall say no more.
Hidden Like Anne Frank: 14 True Stories of Survival (age 11+) by Marcel Prins and Peter Henk Steenhuis. Extensively researched story of 14 Dutch Jewish kids who went into hiding during World War II. Some of their helpers were true righteous gentiles, and some were assholes. Some of them survived their experience with their hearts and ability to experience joy intact; some, you sense, did not. There's nuance here, which I like. I also like that the stories are told in each survivor's own words, and we can compare photos of how they looked as kids with how they look now. I'd want this in my synagogue library, for sure. Unless you have a kid who's an Anne Frank fiend (and they do exist), I'm not sure this is a FUN present. 
Let My Children Cook by Tamar Ansh. An easy, sweet and accessible Passover cookbook. The recipes are pretty conventional — nothing to write home about — but an 8-year-old who is even marginally competent in the kitchen could do many of these by himself. For MasterChef, Jr. watchers, an excellent choice.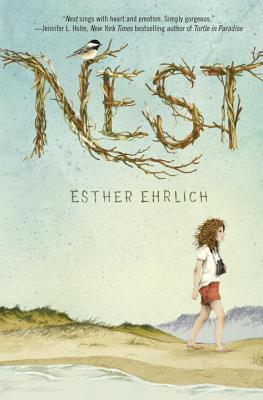 Nest (age 10-13) by Esther Ehrlich. I hope this one wins love from the Jewish librarians and other awards granters. It is a gorgeously written book. The sense of place (Cape Cod in 1972) is so strong I could smell the salt air. Our narrator, 11-year-old Chirp, loves wild birds and her wild dancer mother. (She's less enchanted by her prissy sister and how-does-that-make-you-feel? stiff psychiatrist dad.) But the story is so painful, Maxie asked me to stop reading it to her at bedtime; I was so stressed by it I quit reading it myself. That said, the first half was wonderful — agonizing, but wonderful! — and Ehrlich is absolutely one to watch. SPOILER ALERT: Maxie was in a tizzy even before the mom, who has a degenerative disease, kills herself. Are you hearing me? This is VERY DARK middle-grade fiction!
But listen to another perspective: A very smart 9-year-old named Talia urged me to include it in my best-of-the-year-list anyway, writing, "Personally it was special to me because it really captures readers' attention and you can really imagine Chirp as a real girl. It almost seems like Chirp is a friend and it's almost like hearing a friend's story. I think that people can handle the death. It's good that Erlich chooses not to explain the syndrome that Chirp's mother has in too much detail, because I think that would scare kids. The book gives you a sense of what having a close family member die is like, but it's only an imaginary story. Personally I think it shows what a Jewish family, growing up in Cape Cod at that time, is like. Nest is a great book!" So there you go.
Finally: I really did not like two of the best-reviewed Jewish young adult novels this year. Like No Other (age 12-16) made so many mistakes in its portrayal of Haredi culture, I couldn't finish it. (NO ONE knew to tell the author that "goyim" is not an adjective??) And Prisoner of Night and Fog (age 12-16) offended me in its cavalier mix of history and make-believe. When you take important characters from history and create entire fake narratives around them, depicting them as either directly oppressing our heroine (Hitler, Rommel, Röhm) or being shallow and overly fond of makeup (Eva Braun, Geli Raube) in comparison to our naturally beautiful blonde teen who doesn't know she's beautiful (cue the One Direction), it comes off all Zelig in an icky way. Fundamental plot points made no sense (RIIIIIGHT the hot Jewish star reporter of Munich's biggest anti-Nazi paper is totally gonna approach one of Hitler's favorite teens –she calls him UNCLE DOLF, what kind of REPORTER are you?? — after seeing her peel her psychopath brother off a bleeding Jew, because OBVS she'll help him bring down the Nazis because OBVS SHE IS SO TOTES NICE) and there is some serious deus ex machina all up in this joint (thank goodness that TRAIN comes when it does!), and Ernst Röhm, the actual commander of the Nazi militia, was apparently also The Terminator. (Can't say more without spoilers.) The romance of the golden-tressed Nazi princess and the hottie swarthy crusading journalist Jew with soft, soft lips, against a background of one of the most murderous regimes in history, felt cinematic (it's action-packed, and I was compelled to keep turning the pages even as I wanted to throw the book against the wall) but felt exploitative. Maybe I'm not explaining myself well. I had no problem with Kathryn Lasky's Ashes, a middle-grade novel that also stars a pretty blonde German girl in the heart of Nazi Germany who figures out that Nazis are bad, and also uses some historical figures as characters. But in that one, they're minor characters, not central ones the way Hitler is here, and the book doesn't contradict anything we know historically to be true, so it doesn't feel chutzpahdik.  ALSO: The author seemed to like the phrase "night and fog" without knowing what it means. It's a historical reference to something that has nothing to do with anything that happens in this book. ("Nacht und neble" was a decree saying that people in territories occupied by Germany could be secretly brought to Germany for military trials without regard for the rules protecting prisoners of war. Irrelevant to a story without any trials that takes place in Munich. Maybe the author just found the phrase poetic?)
Whew. Honestly, even though I just ended this on a cranky note I'd much rather talk about what I loved than what IÂ loathed. So if I see you at a Hanukah party, let's do that! And have schnapps and a latke!