I enjoyed this post on wedding dresses, from Liz Black, a writer revisiting her wedding dress nine years later. It made me think of my own dress-purchasing adventures.
Twenty-one (!!) years ago, Jonathan and I got married in a redwood grove in St Helena, CA. It was on the grounds of an old run-down hot sulphur spring resort that smelled like farts, but the setting was ethereally gorgeous. We set up a chuppah in the redwoods and crossed over a little brook on a footbridge decorated by our friends with flowers and then had dinner in a field. Hippies!
I bought and returned three dresses in quick succession, reflecting the fact that I wasn't really sure of who I was back then. 1. Shopping with mom, I bought a vintage Priscilla of Boston fancy-schmancy white dress. Priscilla of Boston was famous for designing Grace Kelly's bridesmaids' dresses in the 1950s; the company, which specialized in ungapatchka lacy and beaded concoctions, went under in 2011. The dress, while beautiful, was not me. We returned it to the vintage shop.
I don't have a picture of my ungapatchka dress but here is Princess Grace in hers?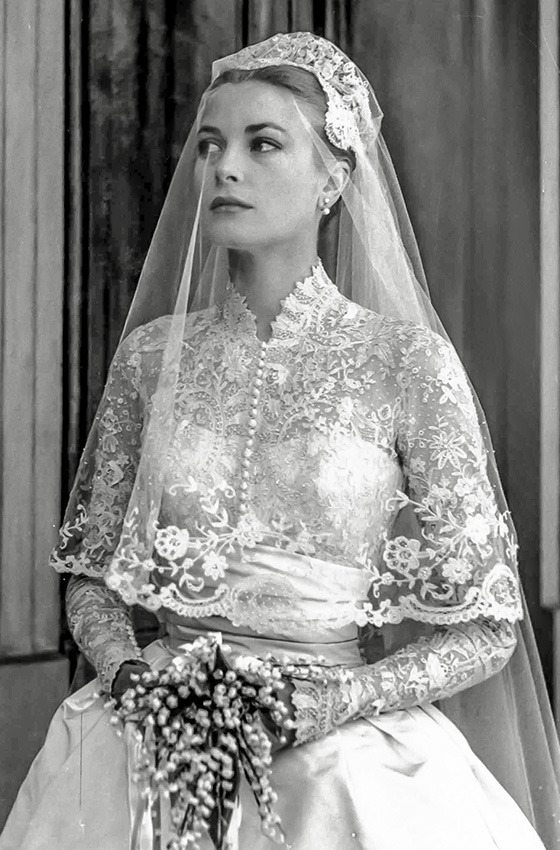 She looks terrified!
2. At the Jessica McClintock outlet in San Francisco (it was CLEARLY very important to me that I not spend a lot of money on my wedding dress, because I was an OFFBEAT AND ALTERNATIVE BRIDE, dammit), I bought a lime green gown with a satin corset top and tulle skirt. I planned to dye my hair (which at the time had pink and purple stripes in it) to match the dress. Husband was worried that I would clash with the lawn. I returned the dress. I wasn't convinced that green hair would look that great on me anyway. Update: Jessica McClintock, who was born in 1930 (and is best known for being the designer of Gunne Sax in the '70s and early '80s, when I rocked her wares on the Bat Mitzvah circuit), retired in 2013 (!) and shut down her business. She's since licensed her name for manufacture overseas.
I found my green dress online, but the satin panels have faded unevenly and the tulle has discolored to a sickly lemon. It was really pretty, I swear!
Imagine it looking more like this (this seller has a way with seductive lighting!), but in bright lime green.
For a time, I flirted with the idea of a flippy white Betsey Johnson mini-dress that I can't find online. It was spaghetti strapped, with swirly white embroidery and little clear holographic sequins all over it. My mom conveyed her disapproval, and her imprimatur mattered to me a lot. Make of that what you will. I did not buy it.
3. I found the perfect dress at Jeremy's, the late, lamented designer discount shop in San Francisco. (I am delighted to discover that a) Jeremy's was pioneering enough to have registered the domain jeremys.com, and b) though the store is gone, the web site is still up! Thank you, Jeremy! Fare thee well!) It was dead simple, the product of an Italian label I no longer recall: A long, white, architectural A-line dress made of layered stretch mesh. (The sleeves had just one layer, so they were sheer; the rest of the dress had two. Still pretty sheer, but there was a slip and a lot of fabric in the skirt, so it wasn't that CHECK OUT MY HOOHAH.) The sleeves were a little long, so I cut them with a scissors. Like a delicious porridge or comfy chair or proper-sized bed, it felt just right. After the wedding, I had a friend tie-dye it in purples and lavenders, so I could actually wear it again. (And did. I mentioned I lived in San Francisco, right?) Now my 18-year-old wears the slip (also tie-dyed) as a dress.
Ha, you can see how unevenly I cut the sleeves!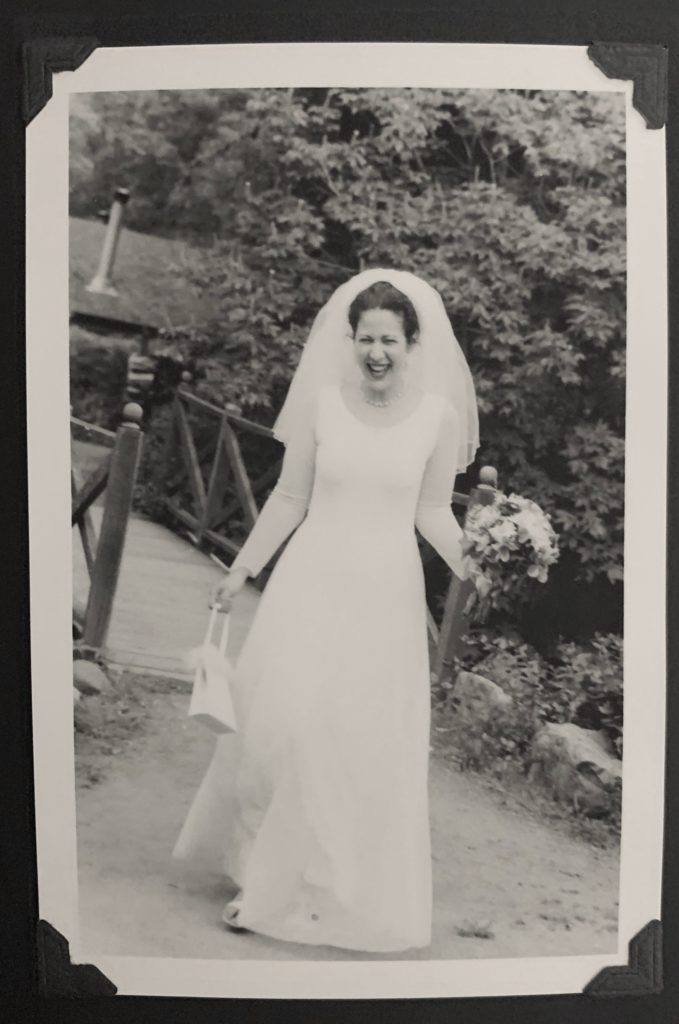 Anyway, just musing about the past, as one does when prompted by Fashion Thoughts.