Somebody needs to make a movie of this woman's life, STAT.
Born in poverty in Brooklyn; grew up above her family's tchotchke shop/doll hospital on Grand Street on the Lower East Side; saved her dad's business during WWI, when an embargo on German goods made inventory dry up, by coming up with a cheap cloth Red Cross Nurse doll (patriotic!) that she and her sisters made and sold; started her own business, The Alexander Doll Company, with a $1600 loan and a ton of moxie; built it into the third largest doll manufacturer in America; took her shopgirls to Margaret Sanger's clinic for health care and birth control. How many high-school-educated girls named Bertha whose parents fled pogroms in Russia could wind up being called "Madame" and living in Gramercy Park? Read more in this week's Tablet magazine column.
This year is the company's 90th anniversary. I'm thinking this Tony Sarg marionette doll would go well with a new-ish children's picture book I really enjoyed, Balloons over Broadway: The True Story of the Puppeteer of Macy's Parade, by Caldecott-Medal-winner Melissa Sweet. Master puppeteer Sarg and Mistress dollmaker Madame: Like peanut butter and chocolate!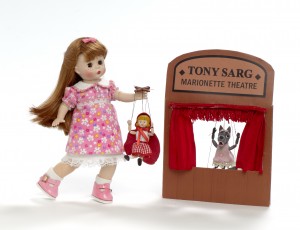 And for my Facebook pals, here's the special 90th anniversary Scarlett O'Hara in her BBQ dress: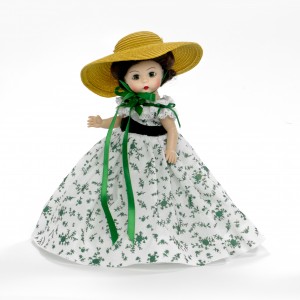 And here's the one I'd actually buy: MACHINE-WASHABLE WIZARD OF OZ WINGED MONKEY!