I'm ambivalent about the departure of my longtime East Village neighbors, the Hells Angels. I've been on the block for 18 years (chai!); they've been here for around 60 (the history is in the link). Here are two pics of my actual building — the Angels' building is across the street — back in the day. It was abandoned sometime in the '70s or '80s and became a squat, then the roof started collapsing, then it was sold by the city to a 21-year-old baby proto-developer for a dollar, then the wee Master of the Universe-to-be gradually fixed it up (when we arrived, everything in the back of the building, including the chimney, was painted a hideous seafoam green, because he apparently got a deal on boat paint), and when we moved in it was an interesting mix of artists and creative people and now it is…less so.
I'm not sure when either of these pics are from. (Do you?) I do not own them, found 'em online, and will take 'em down if asked.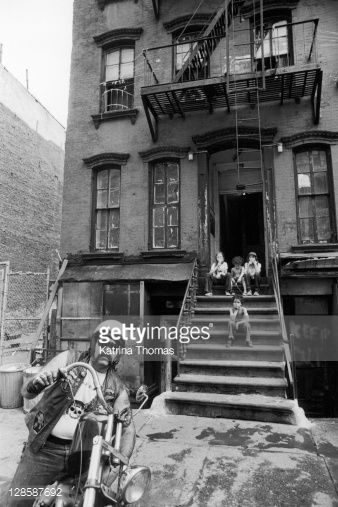 Let's see. In other news, I raged professionally, like everyone else, about Operation Varsity Blues. Not to brag or anything, but I am proud that cheating is not one of my many, many vices. And I did not raise cheaters. I truly believe everything I wrote in my book about raising kids to be independent, ethical, mensch-y people. THAT IS YOUR JOB AS A PARENT. And if you have a certain amount of privilege, as I do, part of good childrearing is opting out of the crazy-people competitive child-rearing race. My kids went to the diverse, progressive little public school down the block (and to bring this full circle, the original principal just told me on FB that at the beginning of the school's life — it opened in 1991 — the Angels donated $50 for books every year!) and then to a diverse, non-fancy, progressive, non-testing-oriented middle and high school. These schools have served them really well. My kids aren't assholes. And they are both curious and clueful about the world.
It feels apt, at this time when we're pondering widespread system-gaming (of a system that's already designed to privilege the privileged!), for me to quote social reformer and activist Caroline Pratt (1867-1954), upon whose philosophy my girls' elementary school was based:
I had dreamed of a child world in which railroads and city streets, farms and factories, the stuff of which the real world is made could be brought down to children's scale so that they might grasp it. I had envisioned a community of children who could in their own way, through the child activity, which we misguidedly call play, reproduce this world and its functioning. Such a community of little individuals, equals in size and strength and understanding as adults are equals in their own adult communities would learn not only physical truths about the world, but social truths as well, the all-important truths of people with many individual differences who must live and work with each other.